Creating a thoughtful play space for your child.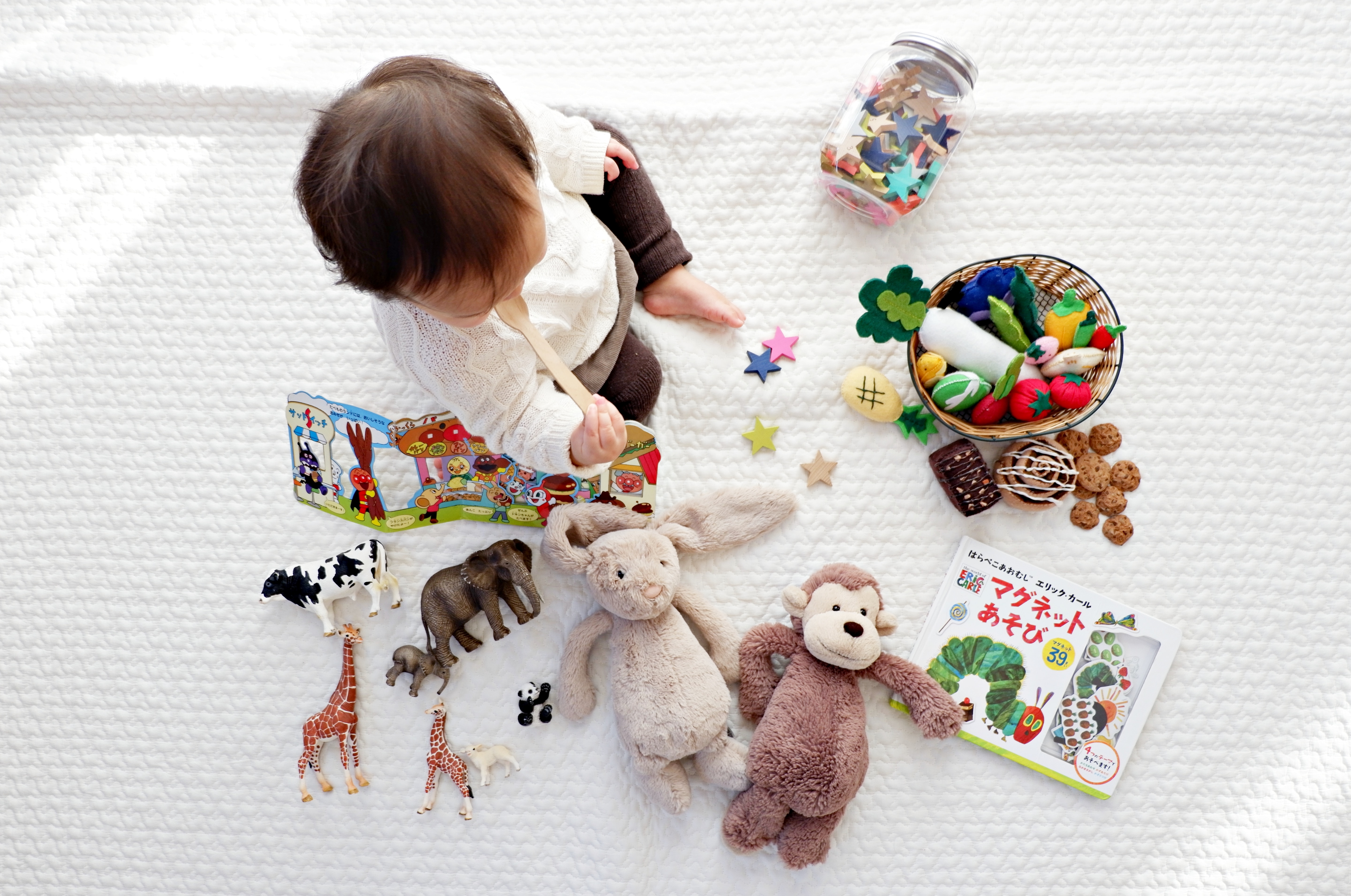 If you don't know already, Matt and I live in a 2 bedroom apartment. The more Marek grows the less space we have and it's getting pretty tight in here! Since Matt only has 2 years left in school and will go back to active duty upon graduation, we aren't sure if we want to ride it out in our current place or move into an actual home. Either way, We will be in our apartment until our lease ends in July. Since we have been here, I have rearranged our living area at least 10 times to accommodate our ever-growing child.
I don't like clutter. I get anxiety in my own home when things are just lying around with no purpose. I really like purpose, for all things in my life. If you have read my past blog posts, you will quickly learn, I like consistency! Anyway, Sometimes when life gets the best of us I would just love to go around the house with a big trash bag and scoop up everything and just toss it, and depending on the day, Matt and Marek may go in there too (Just kidding! Kind of?).
If you aren't happy with your current play area or are in need of some inspiration for reorganizing, I have some tips and suggestions to create a thoughtful play space that have helped me!
Organization and Storage
When Marek was born, I purchased little totes to store his baby toys and newborn essentials in, to keep with me in the living room. They worked great for a while, but once he really started to engage with his toys (around 6 months) they just started piling in his toy basket. I didn't mind it at first, but then it just became a big pile of stuff. I had no idea where anything was, and I felt defeated.
I'll admit, I wasn't really in the mood to play because I had no idea what to play with! If I was having trouble choosing in the clutter, let alone playing with his toys, I can't imagine how he felt! I wanted to find a way to be intentional with the layout of his play area and also selective with the toys we had in our home.
It's important to me he can benefit from his toys. I will touch on this later in the blog post, but as far as his toys being beneficial I wanted them to really encourage his sensory and motor skills. I decided one weekend to go through all his toys and get rid of most of his baby ones, and swap them out for more age-appropriate.
Amazon is life. It's our go-to for almost all of our online shopping and it's where I found this awesome kids' organizational shelf and beanie bag storage! Why I choose the shelf was because I wanted to organize his things by a theme and actually be able to see inside the bins.
Here are the "themes" I went with:
Play pretend with day-to-day technology (This included a flashlight, digital camera, telephone, and a laptop)
Transportation & Little People: (Pick up trucks, tractor, race cars, ambulance, and a diverse group of Little People characters)
Blocks and Balls ( Rubber blocks and textured balls, linkable rings and a block sorter/storage bucket)
Board books
Food truck play pieces
I also chose this cute green striped beanie bag because I have been wanting to get Marek a chair of some sort for a while now so he can relax and drink his milk with us in the living room. What really sold me was that you can actually store all your child's stuffed animals or blankets into it as extra fluff instead of buying beads to fill it with! This really helped alleviate the clutter and it was a fun addition to the play area.
Age Appropriate Toys
I don't know a whole lot about aged toys but I do know a lot of the companies put age suggestions on the box and also, Buy Buy Baby has a super handy guide in their toy section that suggests what toys would be the most beneficial for their age and development. Since his first year of life, we have rotated his toys twice. Once at 6 months and another at 12 months old.
I really enjoyed the most recent transition where we had some fun choosing a food truck as one of his birthday gifts! Recently, I found out on a facebook group, that this food truck is a hot commodity in the toddler world and I even got a great deal on it at the time so I really feel like I hit the jackpot!
Sometimes I follow the age suggestions, but I am also not afraid to branch out and get a little more mature toys. I think it can be a good challenge to have items around that he can grow into such as puzzles and flashcards. I don't like to leave out toys he has outgrown because it's not benefitting him in any way and it's also going to just collect dust. Marek definitely has his favorite toys and focuses on those until he's grown out them. I'm not complaining about this one though, because that means less clean up for me!
Play with Sensory and Motor Skills in mind
Today was the first day we used our new system and I actually felt productive. I don't ever have structured playtime but once in a while if I know we haven't worked on a certain area such as fine motor skills (Which Marek used to struggle with more) I would pull out his block sorter. Today I found it with ease and it made me want to work on it with him!
If you would like to focus more on sensory play with your child there are some simple activities you can do around your home to encourage this. Before I started school and was home all day, I would let Marek play in the kitchen sink and just put his fingers through the running water and splash around a bit. Also, another fun activity for them is giving them a pot and cooking utensil to make some music with!
I hope this inspires you to switch things up and become more creative with the time and space for your little one to explore!
Lots of love,
Melinda
---
---