When life hands you lemons, make lemonade.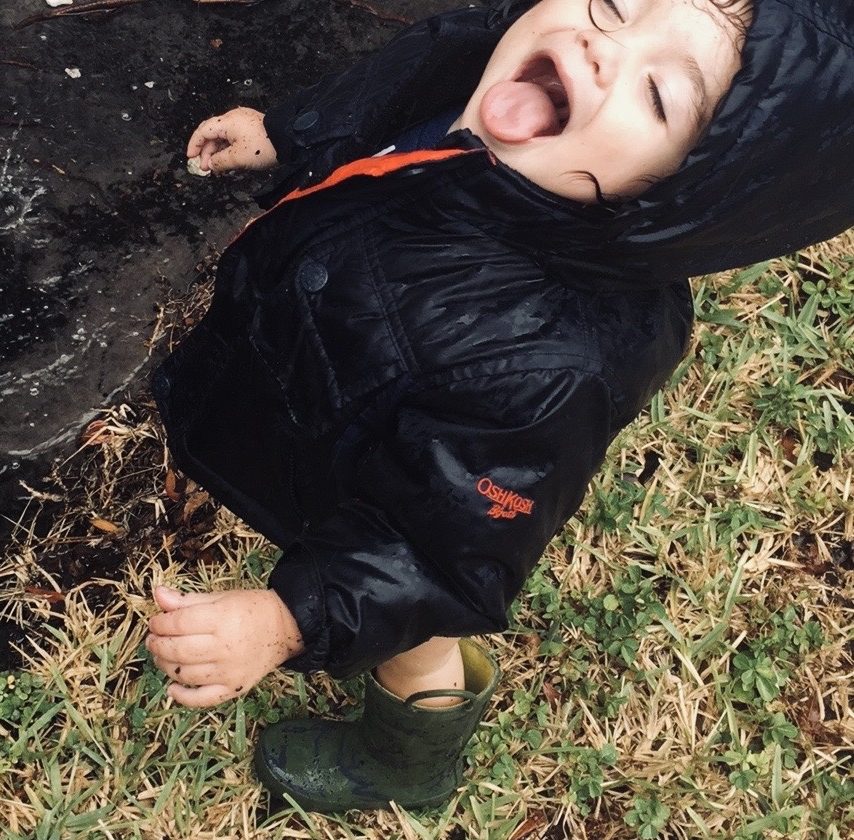 Oh, hi there!
Gosh, it's been a minute since I've written a blog post! I have missed you all so much and I have been thinking of you guys literally, every day for the past few weeks! I have been wanting to give an update on all that we have been up to but so much has happened I don't even know where to start!
I gave an update on The Mindful Mama's Facebook page of the initial impact the COVID-19 had on our family. Although I had a moment of worry, I prayed so much over the situation right from the get-go for God to provide us with resources to get our family through, and to show me what we were to learn from this time of crisis. A few months ago our schedules were booked to the max with responsibilities. During the week, there wasn't much time for fun at all. Matt and I would constantly pray for more time as a family. For people who don't know our story, Matt is under a contract with ROTC and has a commitment to be in school full-time so it's not an option for him to just lessen his class load. We wish that were the case. We have prayed so much about this because one of our biggest fears is missing out on Marek's childhood while we are busy chasing the dream. In such an unfortunate and scary time, since Matt got laid off we found our prayers answered. Kind of weird how this is playing out…
I feel very fortunate that Matt is able to be home with us during this time, I can't imagine doing this stay-at-home order alone! I applaud all the parents that are holding it down, while their spouse is continuing to work. It is so tough doing it on your own and you da real MVP!
So, I wanted to do something a little different this post and document the special day that we had because of all the days so far during this stay-at-home period, today, was one of our most memorable! Typically, we've been getting out of the house and going on daily walks around Lake Baldwin, which has been our saving grace. Seriously, we are going crazy! In our pre-corona days, we preferred a good balance of going out the weekends and just relaxing at home, but for some reason this quarantine has us itching to go out 24/7! They say you always want what you can't have!
This morning, we woke up and I knew I wanted to make a bigger-than-normal, savory breakfast to start the day. I got our Keurig warmed up to brew our favorite coffee and the menu consisted of Kodiak Chocolate Chip Protein Pancakes, eggs, and bacon. SO yummy!! We jumped right in and got ready with our morning routine: brush teeth, get dressed, and pack Marek's milk and snacks. When I opened the curtains in the living room, I noticed that it's been raining! Matt and I were bummed because there is nothing to do indoors that would give us that fresh air fix that we needed. Plus, for everyone's sanity, we knew Marek needed outdoor time to get all his toddler energy out. We played inside for the rest of the morning until nap time, and then Matt and I snuggled up to the first episode of Locke & Key on Netflix, pretty good so far! We got all creeped out though because when Marek woke up, he started saying "Hi, hi" to a giraffe painting in his room. The painting was actually Matt's when he was a baby, his grandma painted it for him and now Marek has it! We always believe his Grams is watching over Marek since it's been in his room.
Smuckers Uncrustables PB&J was a solid choice for Marek's lunch. During this season, I have really let go of all the normal standards that I would have for myself as far as his meals go. Usually, I would put together a balanced meal of a veggie, protein, carb or fruit but nope, not these days! We are learning to do the best we can and keeping the stress or pressure to a minimum, and it looks like we are all still surviving! Something randomly clicked for us to get our rain boots on and play outside. We don't normally do stuff like this on a whim because of our schedules but it's honestly the most fun we've had in weeks!
I get a bit emotional seeing Marek so carefree because my goal is to always make sure he is able to just be a kid for as long as possible. When I see him having so much fun and being playful I feel like I can just take a deep breath, and remind myself that I am doing just fine.
Marek had so much fun playing in the mud and jumping in the puddles! If anyone grew up on Barney, we taught him the "If All The Raindrops" song and he loved the part where he got to stick his tongue out and say "Ahh"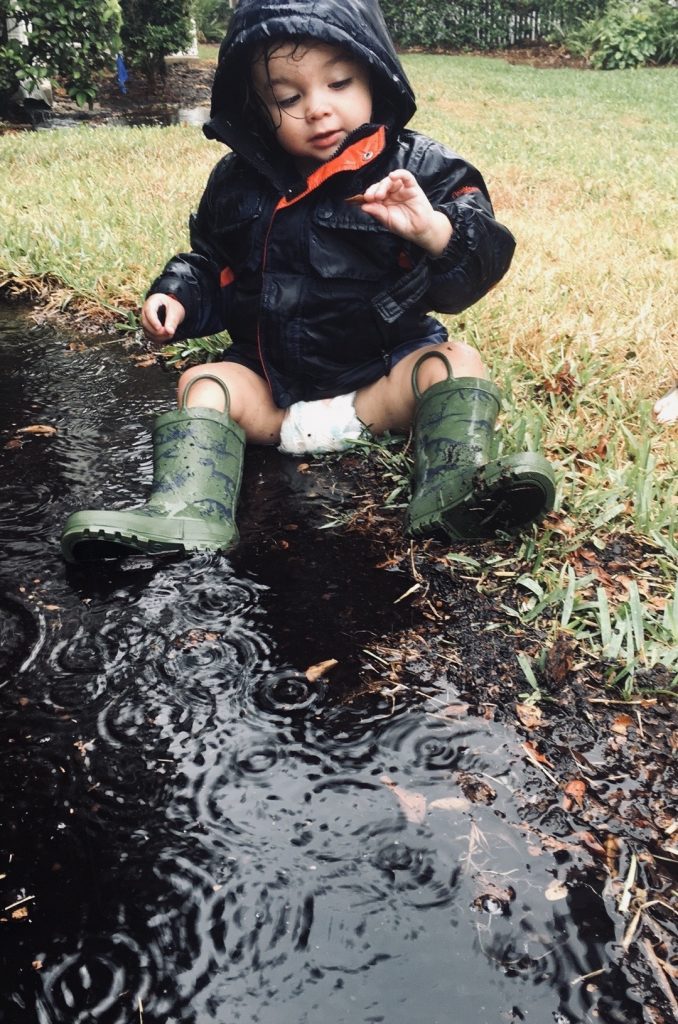 A reflection on today:
During this season, I realize how fast time is passing, and how much pressure there is to keep up in the world. We are all trying to do our best, and hope we measure up to the next person. It's so important to remind ourselves that we are enough; in our purest forms without all the distractions. We can learn and grow without all the additives, and find the greatest joy, being still.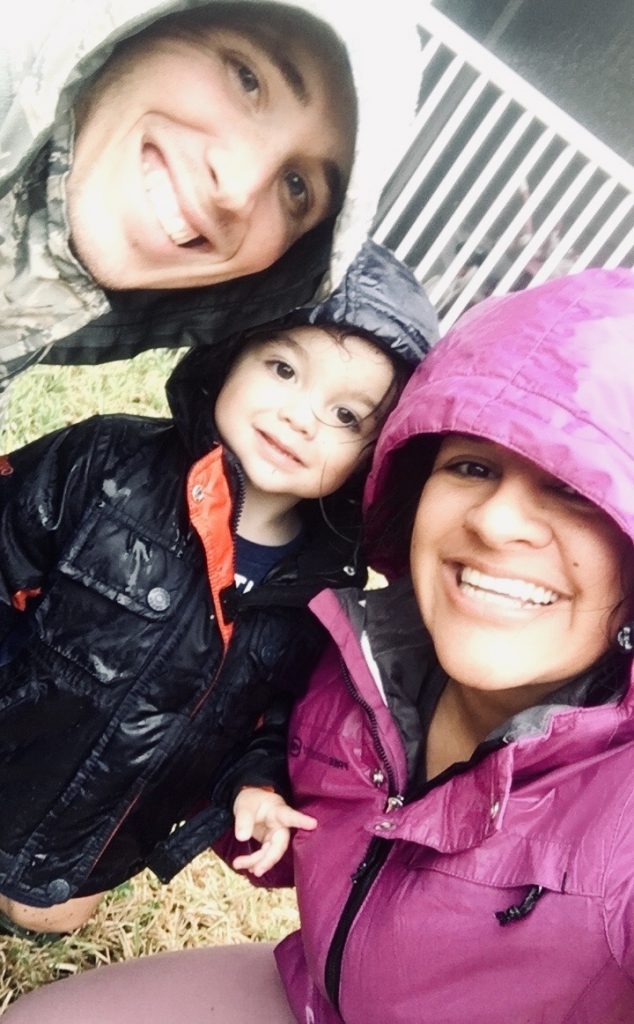 Marek, My hope is to always encourage you to be creative without boundaries, to be curious about the world and ask lots of questions, and to find joy in the experiences and not material things.
Your laugh is so contagious and I hope you never feel the need to lose your playful personality because it makes you special. When I see you, I see all the possibilities of what your life could be and there are no limits. Dada and I pray you always treat people with love and kindness, even if they aren't always kind to you because that is how you can change the world. You are my everything and I am so, so proud to be your mommy. Thank you for loving me back every day, even when I feel like I don't measure up.
To all my readers:
I wish you all to be healthy and safe, to find time for self-discovery and to be at peace.
Sending lots of prayers up for our essential workers. You are so appreciated!
Lots of Love,
Melinda
---
---